Become a Veterinary
Assistant II: Canine Reproduction
Canine Reproduction FOR VETERINARY ASSISTTANTS COURSE SUMMARY
This course is the definitive guide to the principles of sound dog breeding. If you're a veterinary assistant or preparing to become one, this course will help you understand the essential facts so that you can knowledgeably converse with clients on the complexities of canine reproduction.
There are no prerequisites to take this course besides an interest in responsible breeding practices that promote the health of breeding dogs and their puppies.
It is recommended you take Become a Veterinary Assistant I before taking this course.
Instructional Material Requirements
The instructional materials required for this course are included in enrollment and will be available online.
PC: Windows 8 or later.
Mac: macOS 10.6 or later.
Browser: The latest version of Google Chrome or Mozilla Firefox are preferred. Microsoft Edge and Safari are also compatible.
Software must be installed and fully operational before the course begins.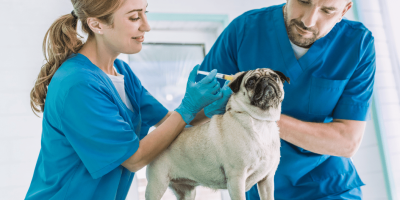 You can apply for this certificate course directly online, through our partners at Ed2Go!
Canine Reproduction for Veterinary Assistants
Course Summary